In the past, it was possible to combine a search with DSA campaign, but you had to set everything up separately, which is an unnecessarily complicated solution for Dotidot. That's why we've introduced this very handy option that combines a classic search campaign with DSA adgroups in one.

You now have 3 options to choose from when creating your DSA campaign. And we will show you how to proceed.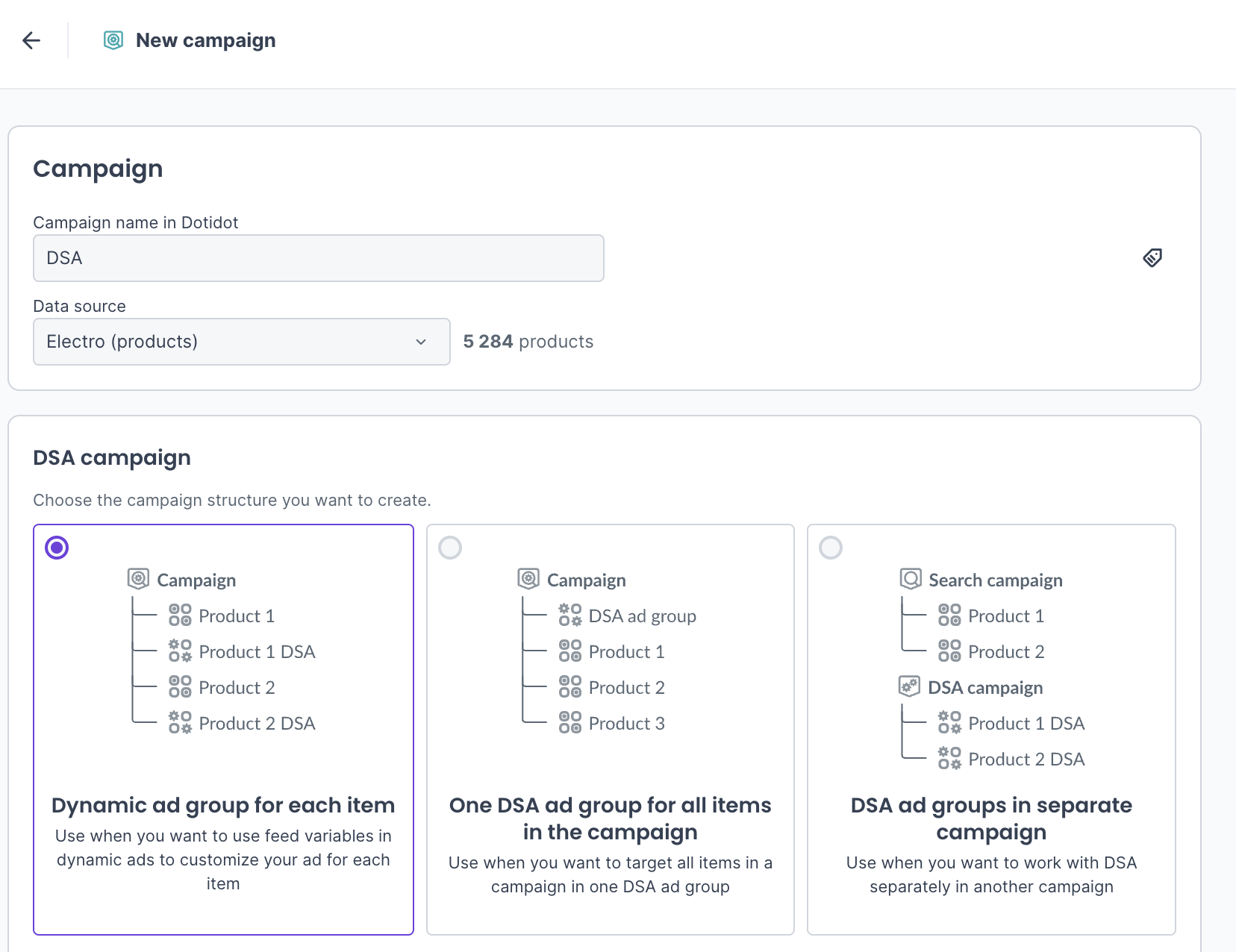 Dynamic adgroup for each item:
- This option will create a search campaign that includes both standard and dynamic adgroups for each item. The DSA adgroups will differ from the standard ones by the chosen suffix. We will automatically create DSA feed for you in the Google Ads system.


- This option will save you time with setup, but you can still do very specialized campaigns for each item.


One DSA ad group for all items in the campaign:
- This variation will create a search campaign that includes several standard ad groups and just one dynamic ad group. The dynamic ad group will target all other URLs/items used in the campaign. In this case, it is not possible to use variables in the ad text. We will automatically create DSA feed for you in the Google Ads system.


- Suitable if you only want to use DSA as a general additional campaign for the whole ad group.

DSA ad groups in a separate campaign:
- This variation will create two campaigns, where one campaign will contain standard ad groups and the other campaign will only contain dynamic ad groups. The campaign with dynamic ad groups will then have a suffix added to the campaign name and the ad groups to differentiate them from the standard campaign in search. If a variable is used in the campaign name, more than two campaigns can be created. We will automatically create DSA feed for you in the Google Ads system.


- Useful, for example, if you want to set a separate budget for each campaign.

If you want to change the variant in an existing campaign, you can do so in the campaign settings or in the Google Ads settings.


So let's show you how to do it:
1. First, we create a new campaign and choose what type of campaign we want to create. In this case, we choose Search campaign with DSA: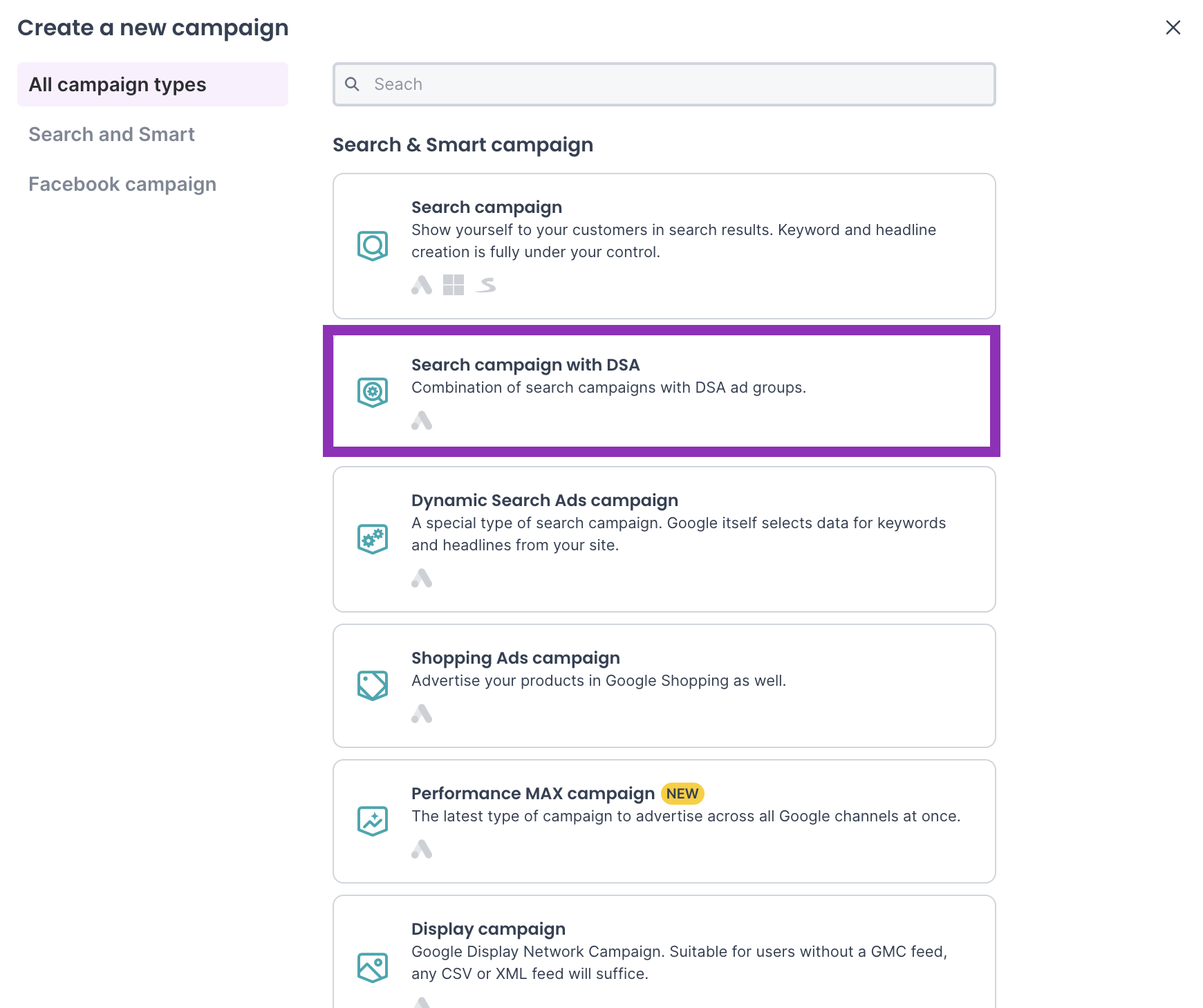 2. Name the campaign.
3. Choose the data source we want to use.
4. And choose the campaign variant.



5. Select the target url from the feed.
6. Enter the Domain URL without https://
7. Select the targeting language.
8. You can also add some labels, either manually or using a variable.
9. Choose if you want to use product_id as the targeting label or URL.
10. You can also write a suffix to be added to the ad group.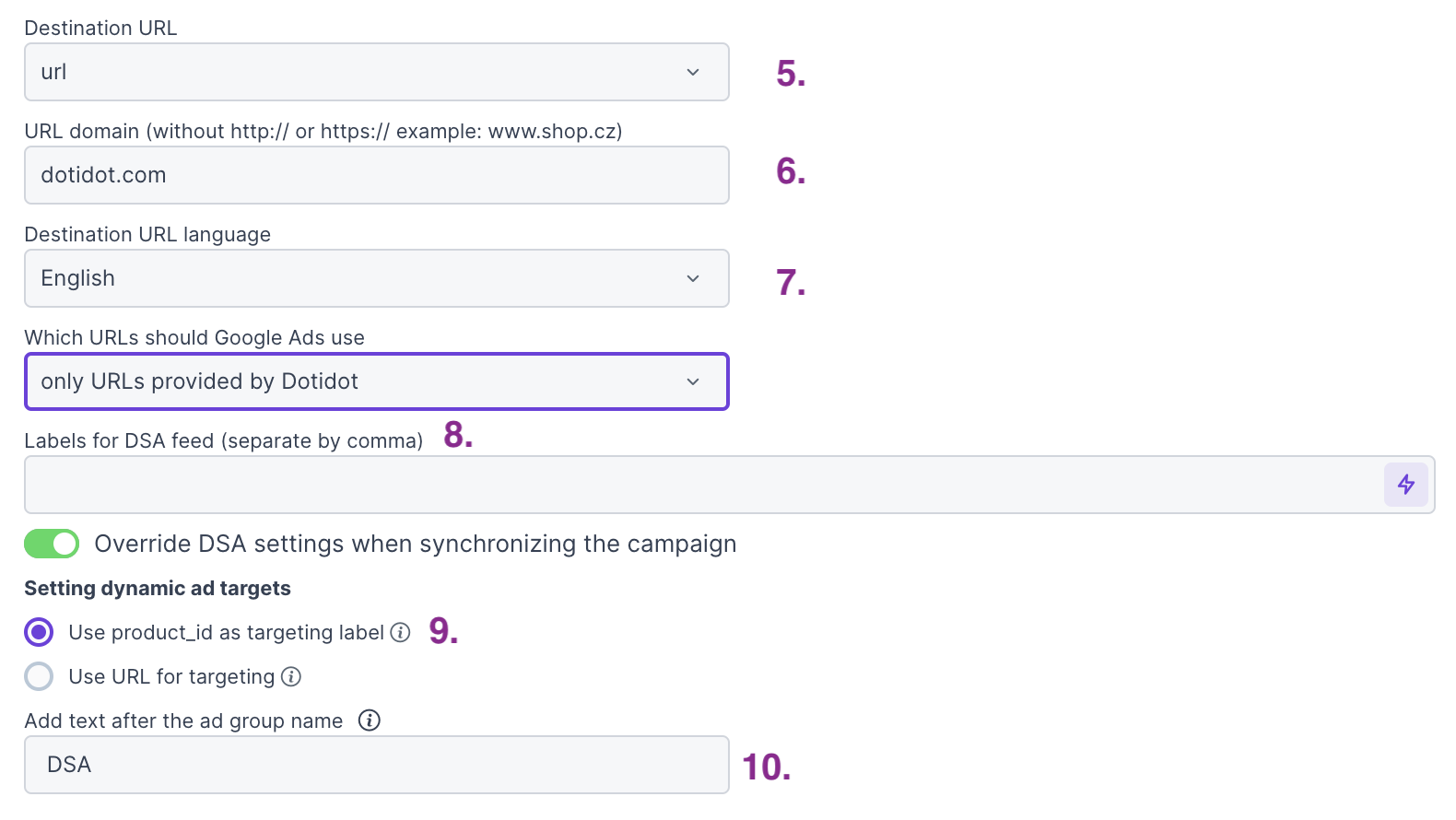 11. There is also the classic filtering.
12. And there is nothing left to do but to create the campaign.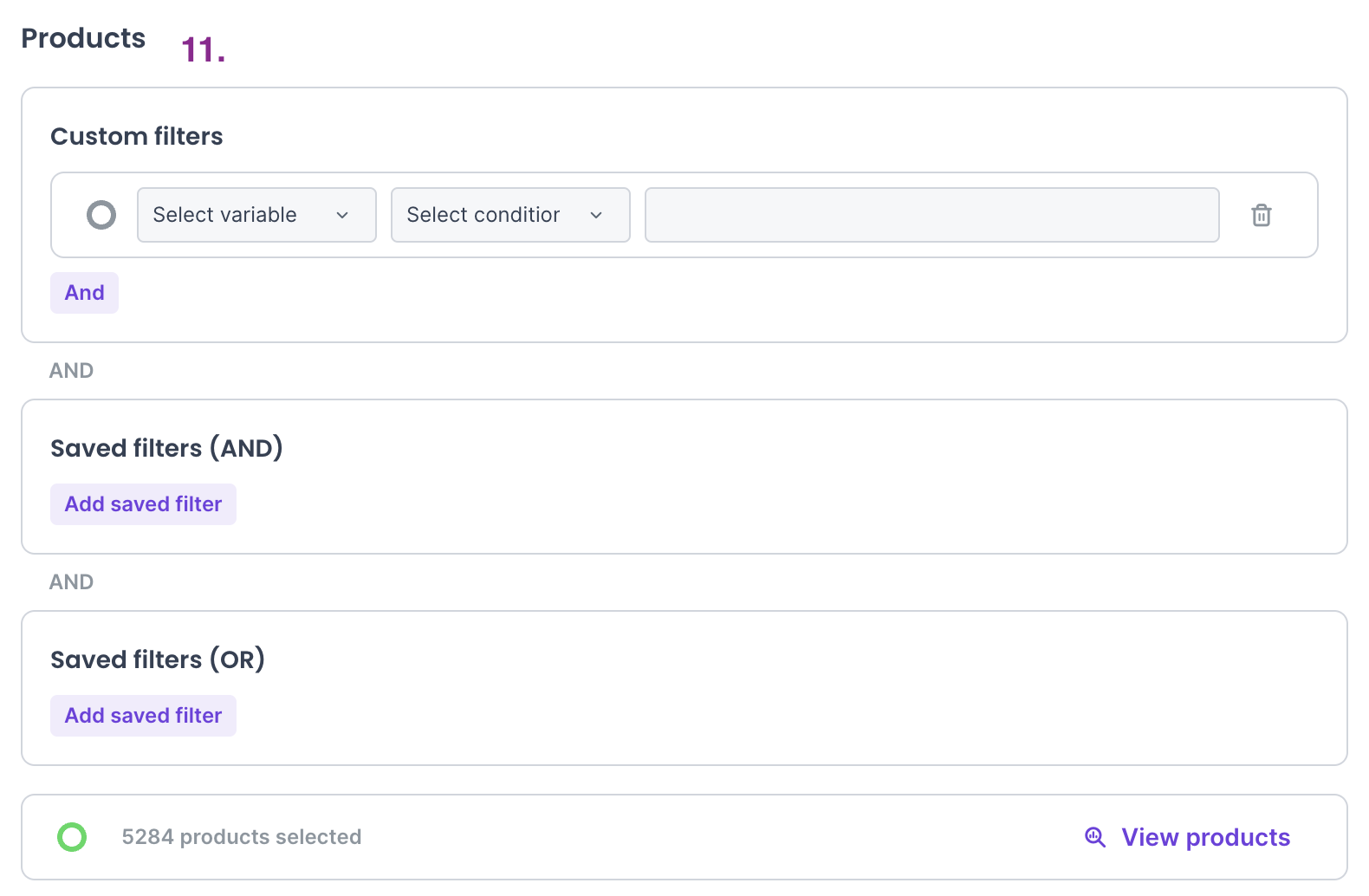 Once we've created the campaign and set up the structure, we can now see a preview of our products, where we can see both classic ad groups and DSA adgroups, so you can check everything clearly.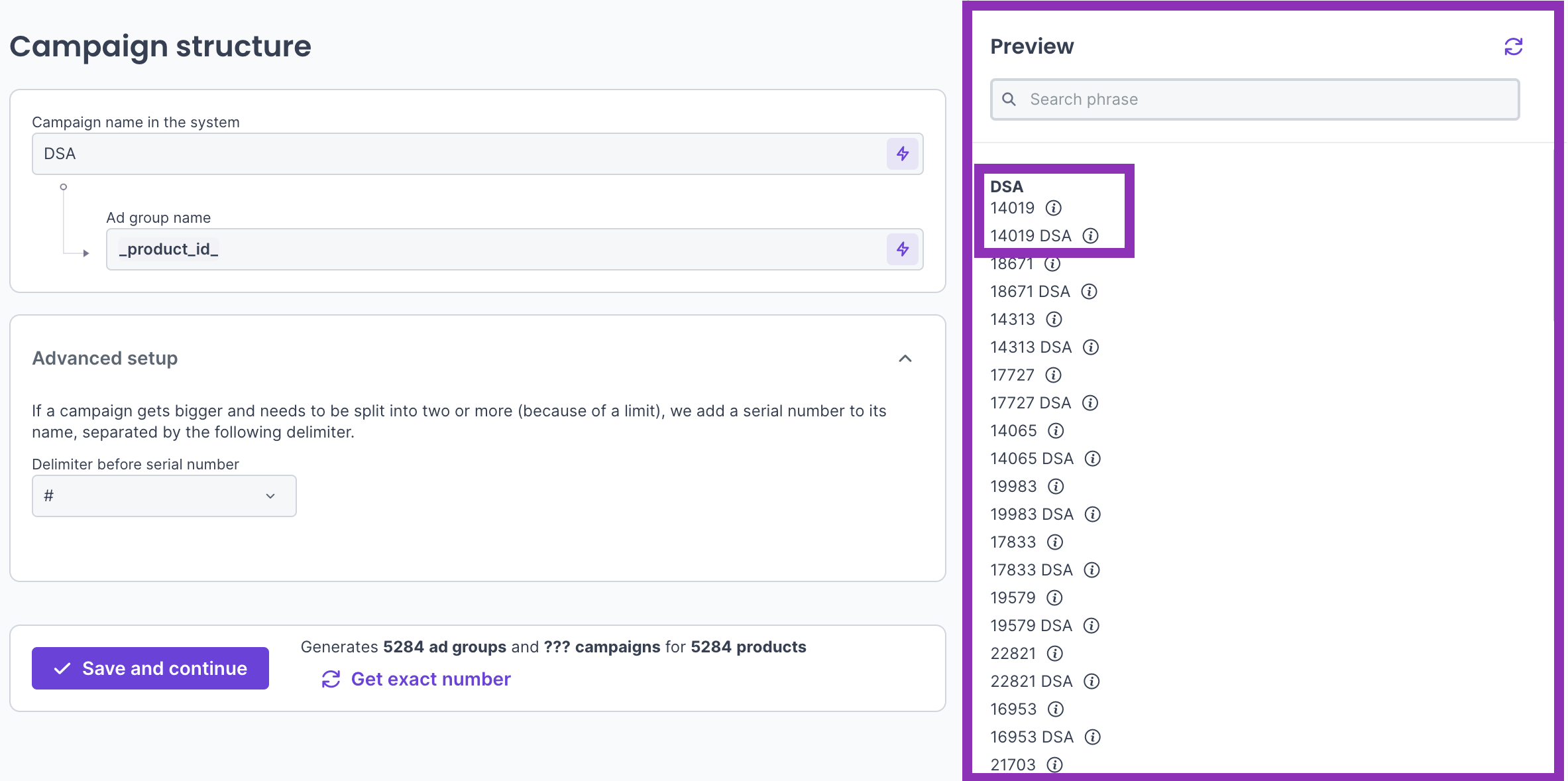 Now we'll create our keywords and we can move on to the ad texts.





Here we can choose the type of ad text. If you are creating a search campaign with DSA, always remember to create a corresponding DSA ad as well to make your ads complete.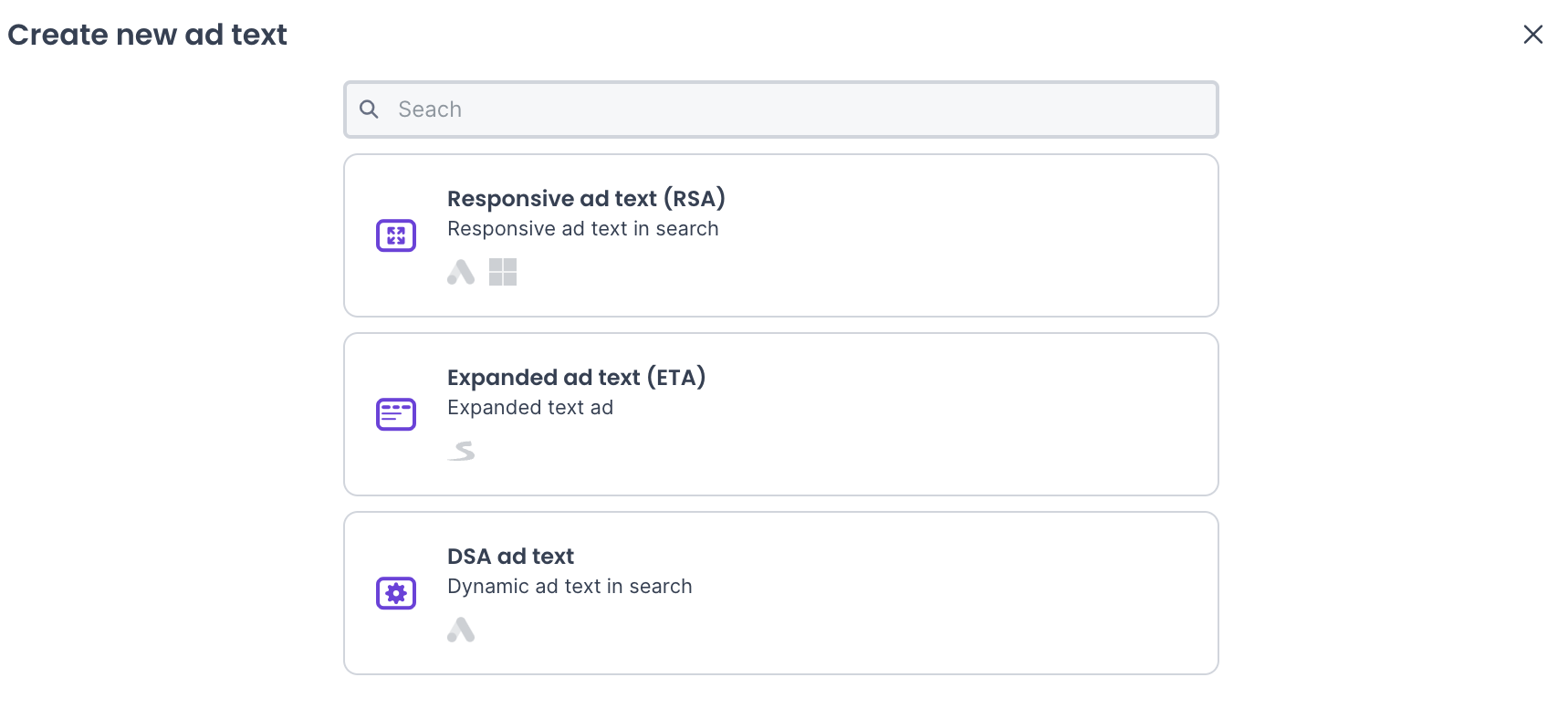 Then we set up the ad system where we link the corresponding Google account, set the budget, bidding, etc... And we can still look into the ad system settings and modify them as we need.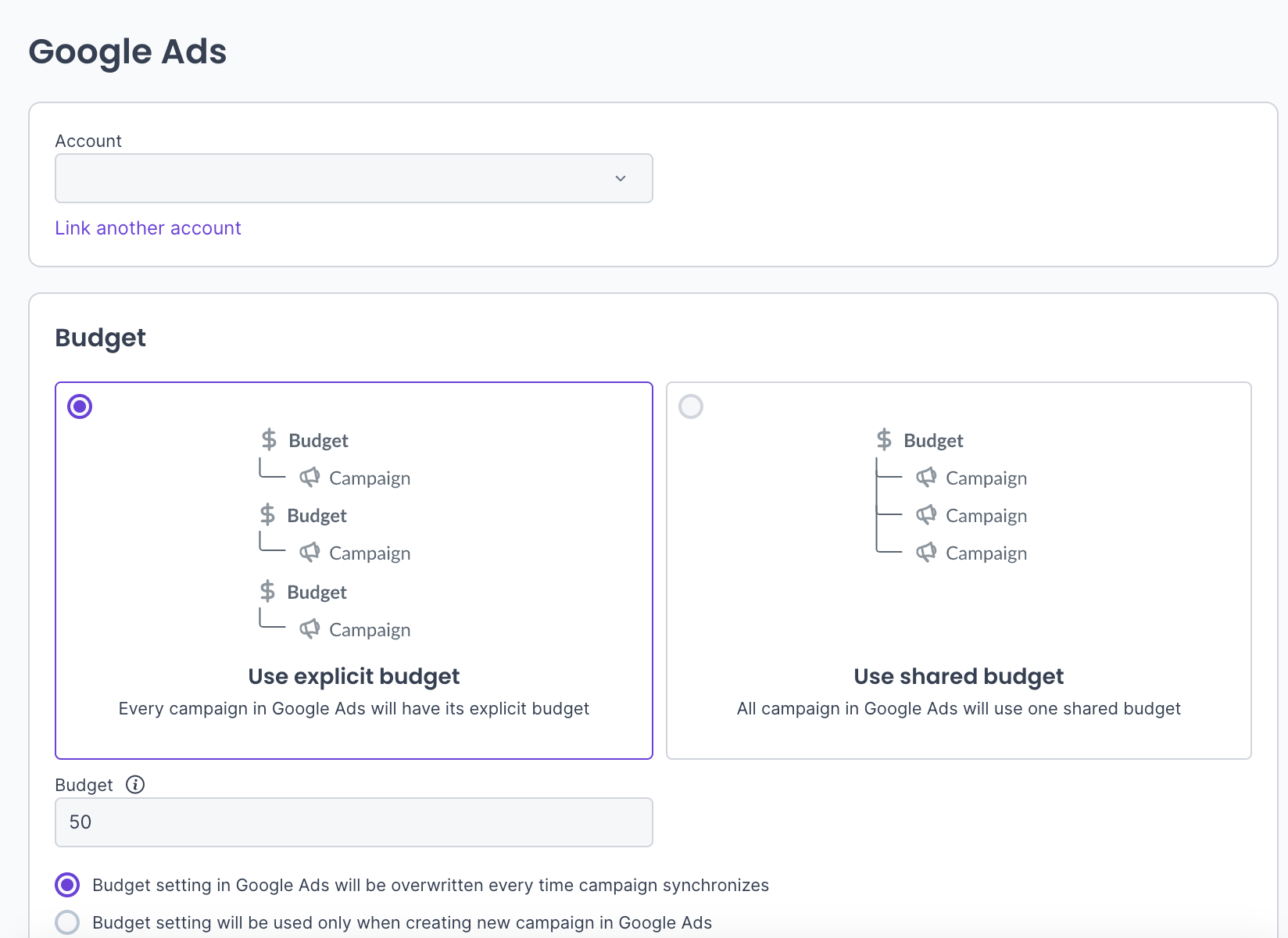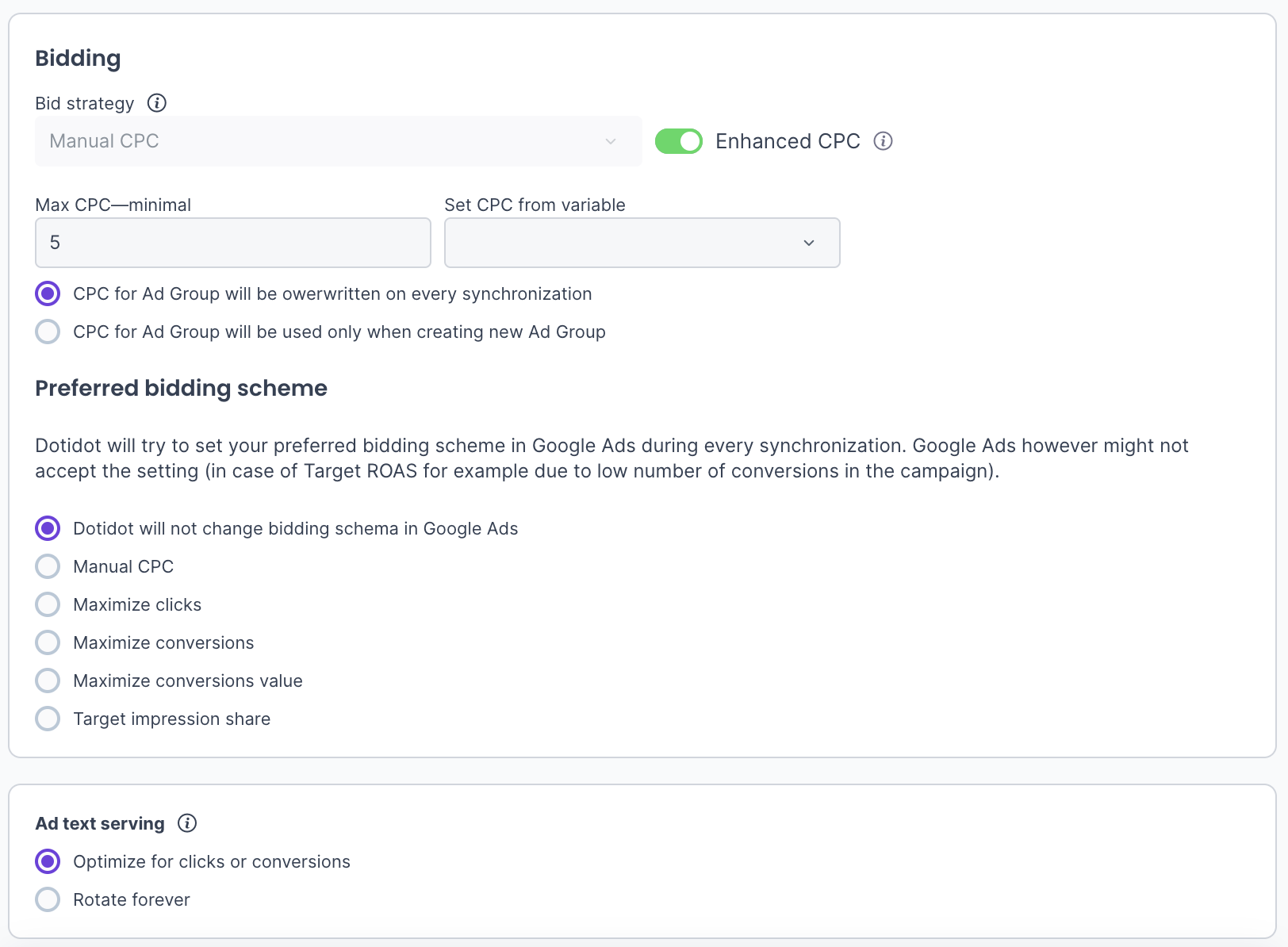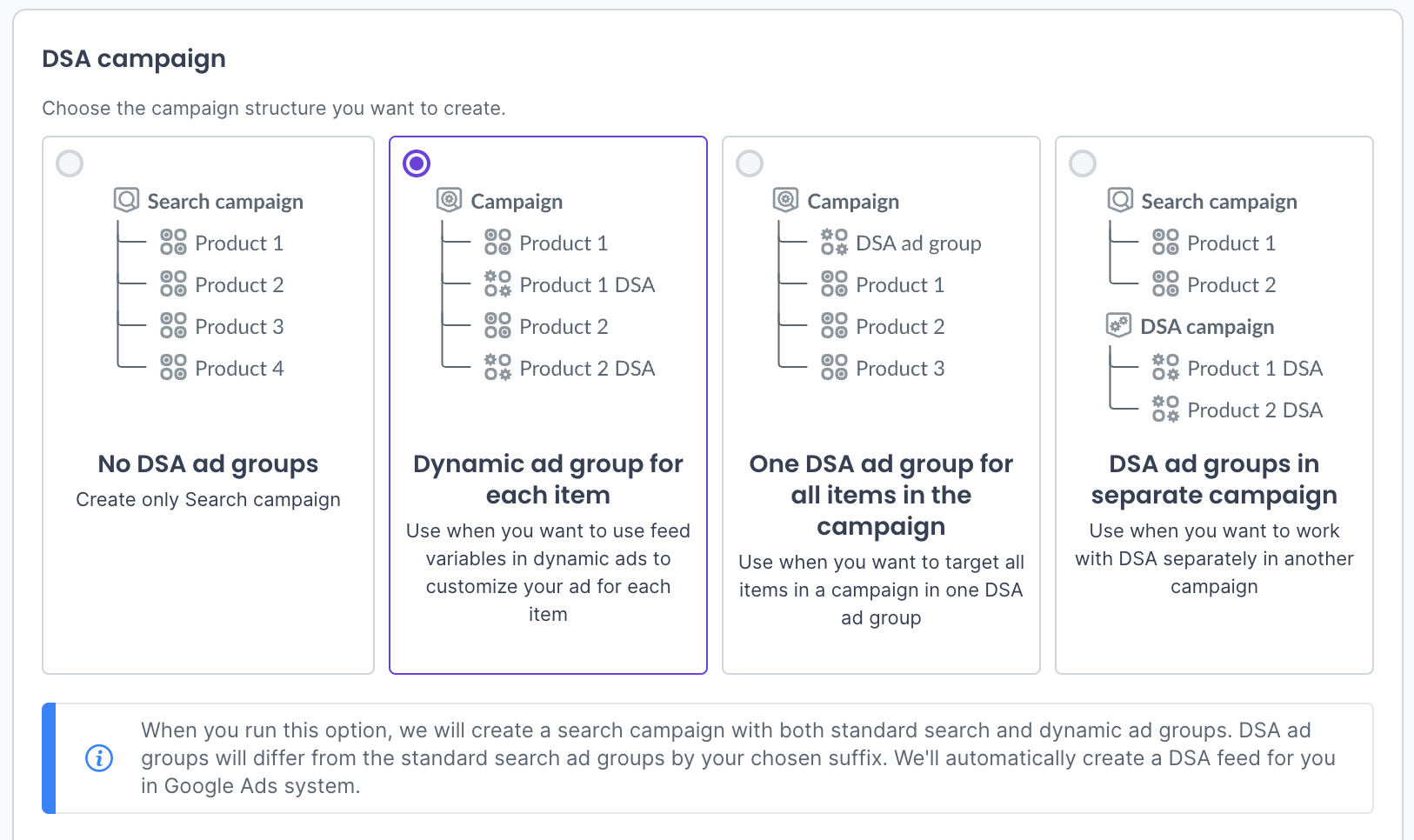 Save the campaign and a preview is waiting for you on the right, where you can check that our product contains classic ad text and keywords, as well as DSA ad group.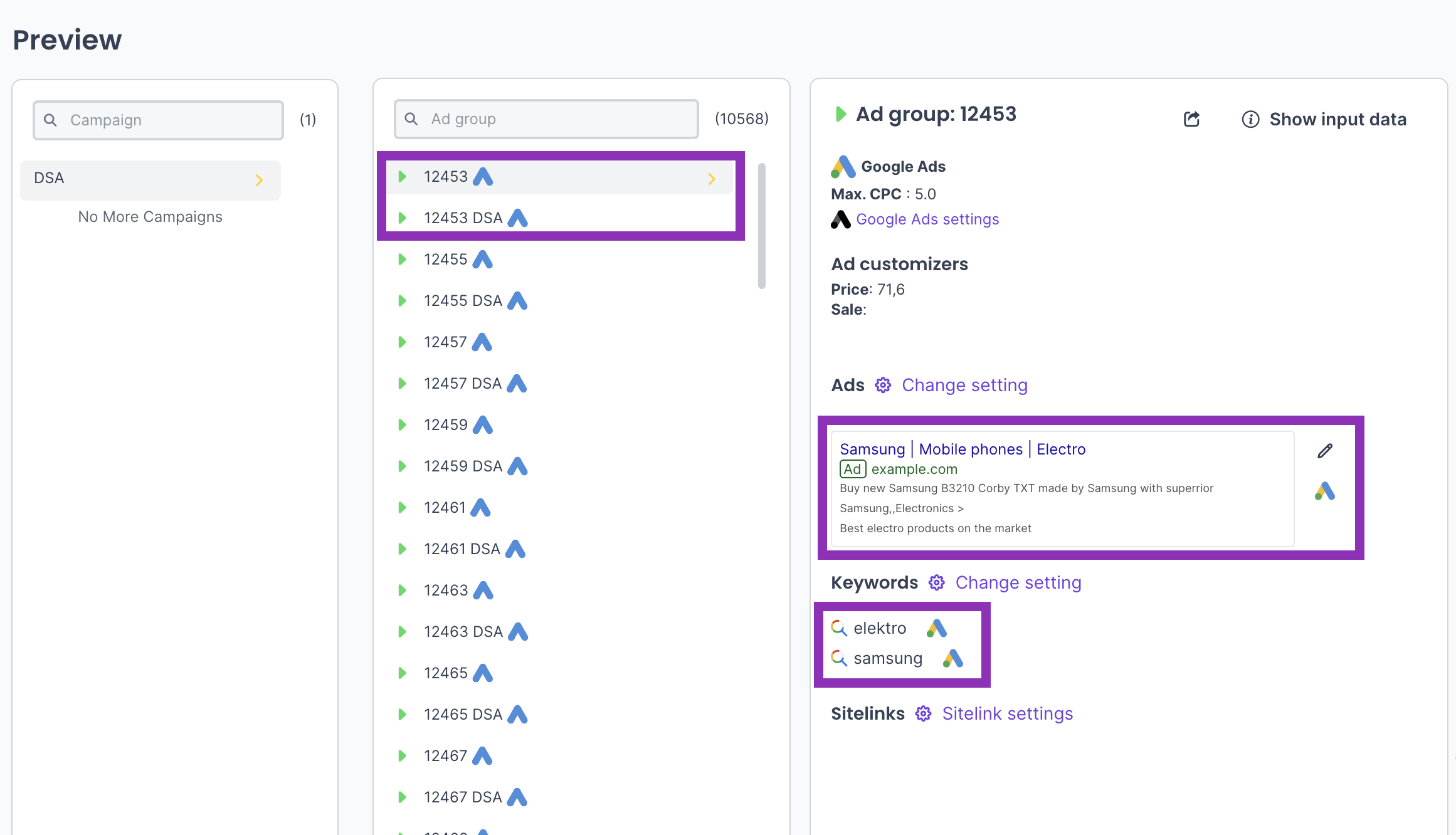 When you click on the DSA ad group, you can see the target URL of the product and the DSA ad text with the embedded text.


All you have to do now, is start the synchronization and you're done :)