Creating a DSA campaign in a nutshell:
Upload a data feed (you can use an existing one)

Create a DSA campaign;

Set campaign hierarchy;

Create DSA ad texts;

Link the campaign with your Google Ads account.
TIP: A list of URL addresses will do as a data feed. If you add other information, it can be used for ad texts as well.
In the campaign overview, click the New campaign and select DSA campaign option.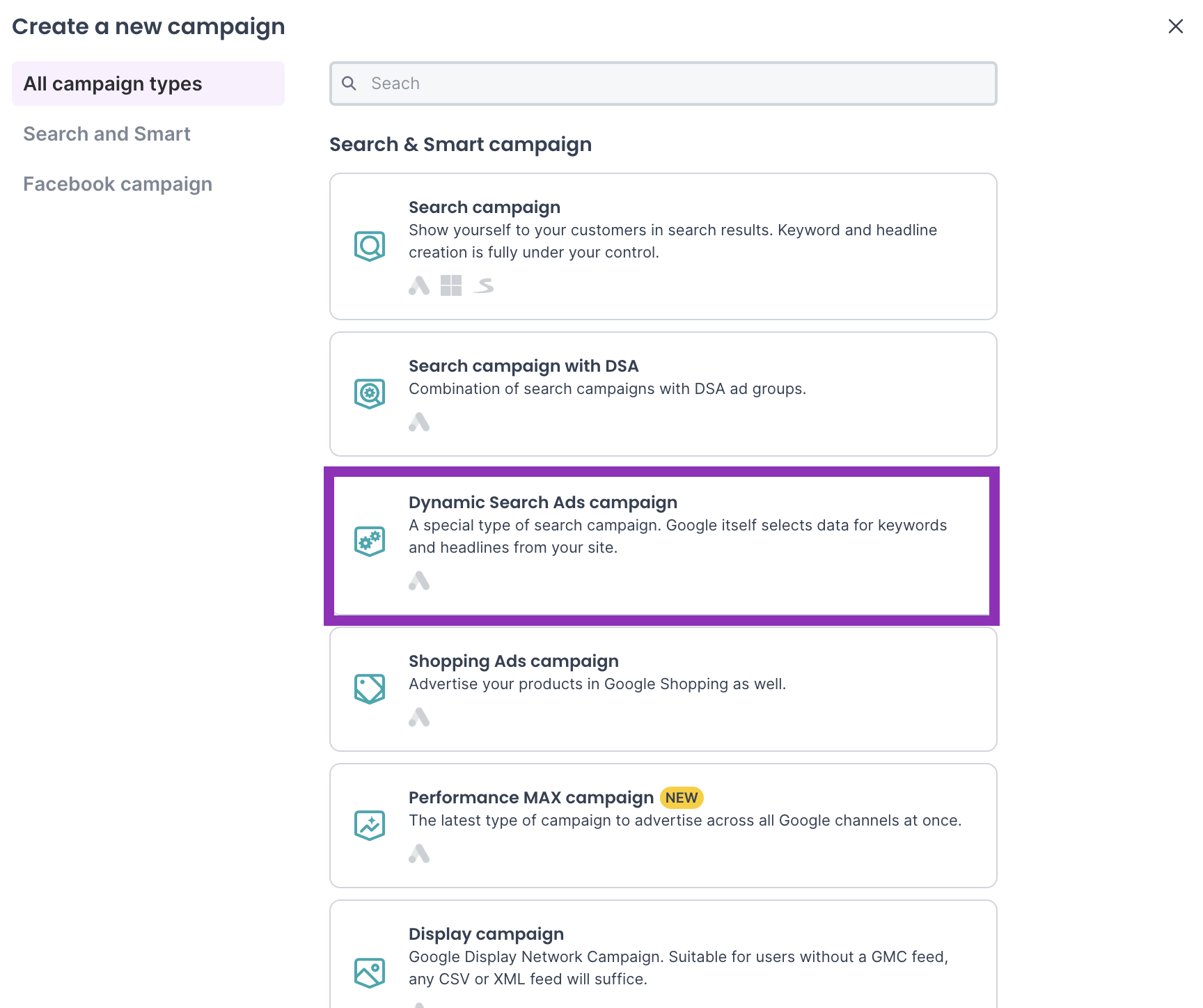 This will lead you to the basic DSA campaign settings.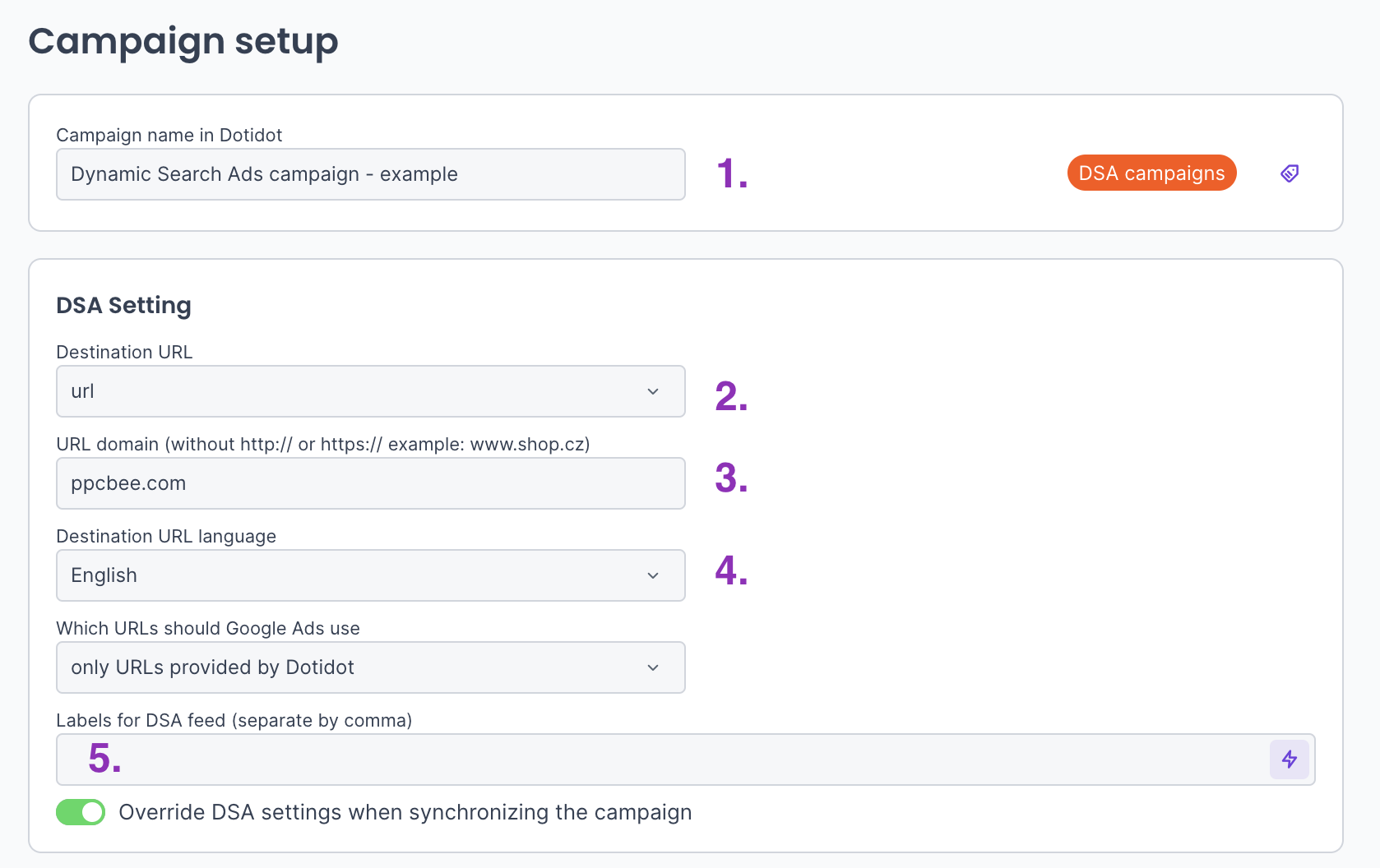 Give your new DSA campaign a name (1.). Then choose the data feed column which contains the URL addresses you want to target (2.). Enter the correct domain (no http:// or https://, just www.shop.com) of your website (3.) and choose the site's language (4.). It's good to pay attention here—if the wrong language is selected, the campaign won't work. You can also choose labels for the DSA data feed (5.). Then, set what the campaign's targeting is (6.)—here, you want to target individual products. If you'd like to know how to create a campaign where product groups are targeted, read our manual on creating a structured DSA campaign.
Conditions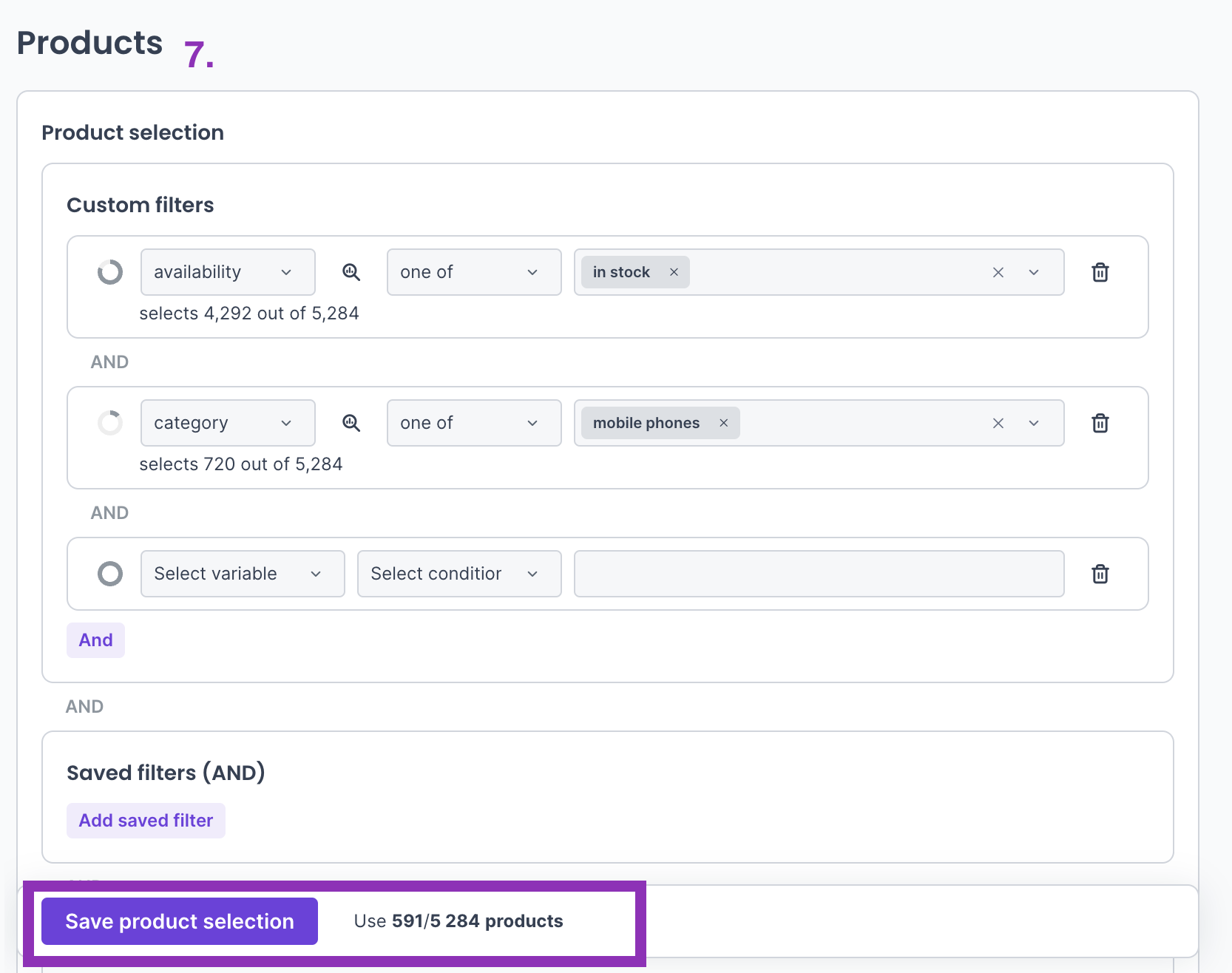 As you already learned when you were creating a standard search campaign, products can be selected out of the data feed, using conditions (7.). Save the basic settings and product selection by clicking Create campaign.
Hierarchy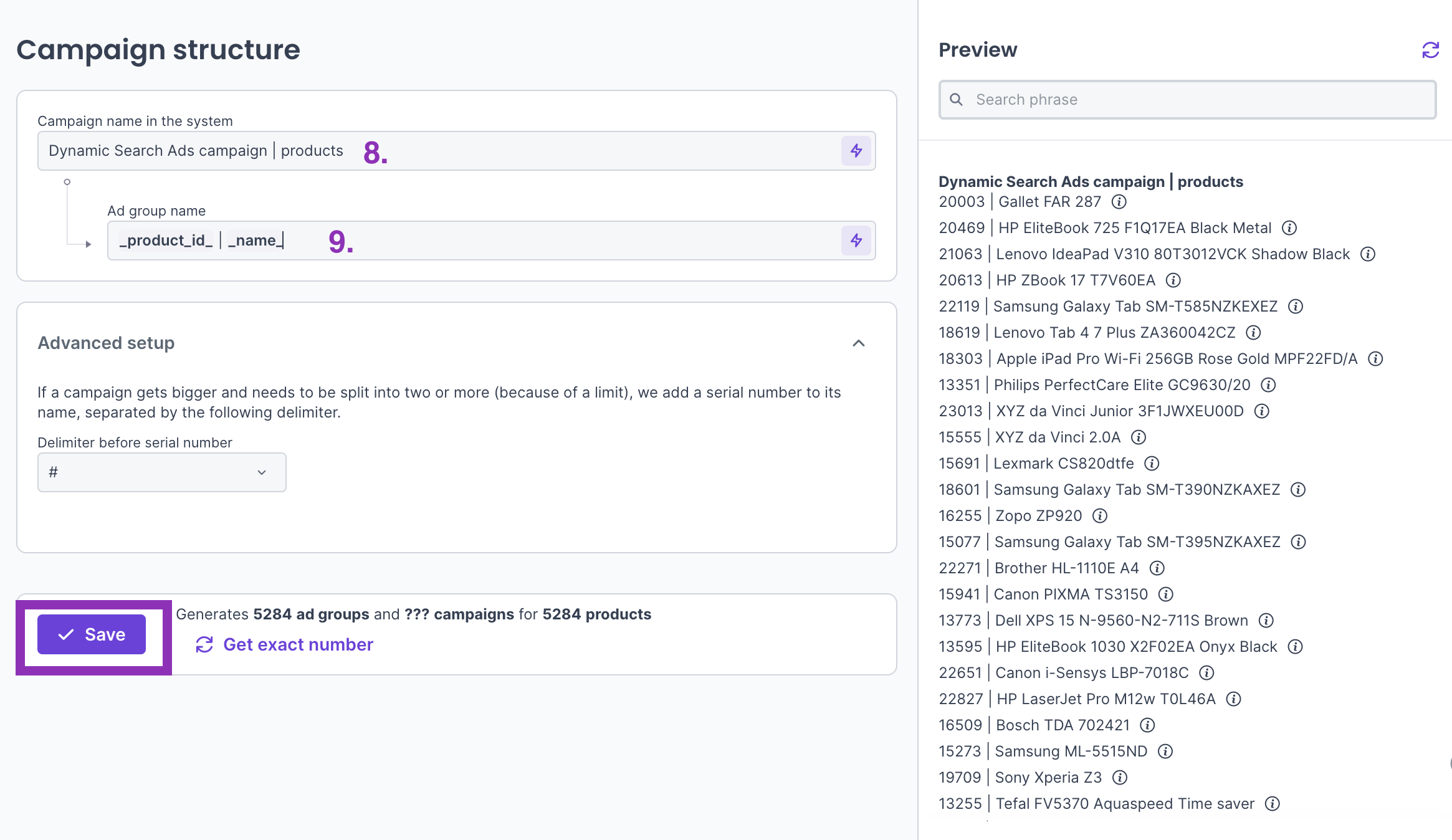 Choose a campaign name that will be visible in the advertising system (8.). In the same way, choose the names of individual ad groups (9.). To maintain the uniqueness of ad groups, the name of each one must contain a product_id. Save the settings. Now you can start creating DSA ad texts.
Ads generator
You've already become familiar with our ad text generator when you were creating a standard search campaign. The only difference here is that some parts of ad texts are generated by Google itself.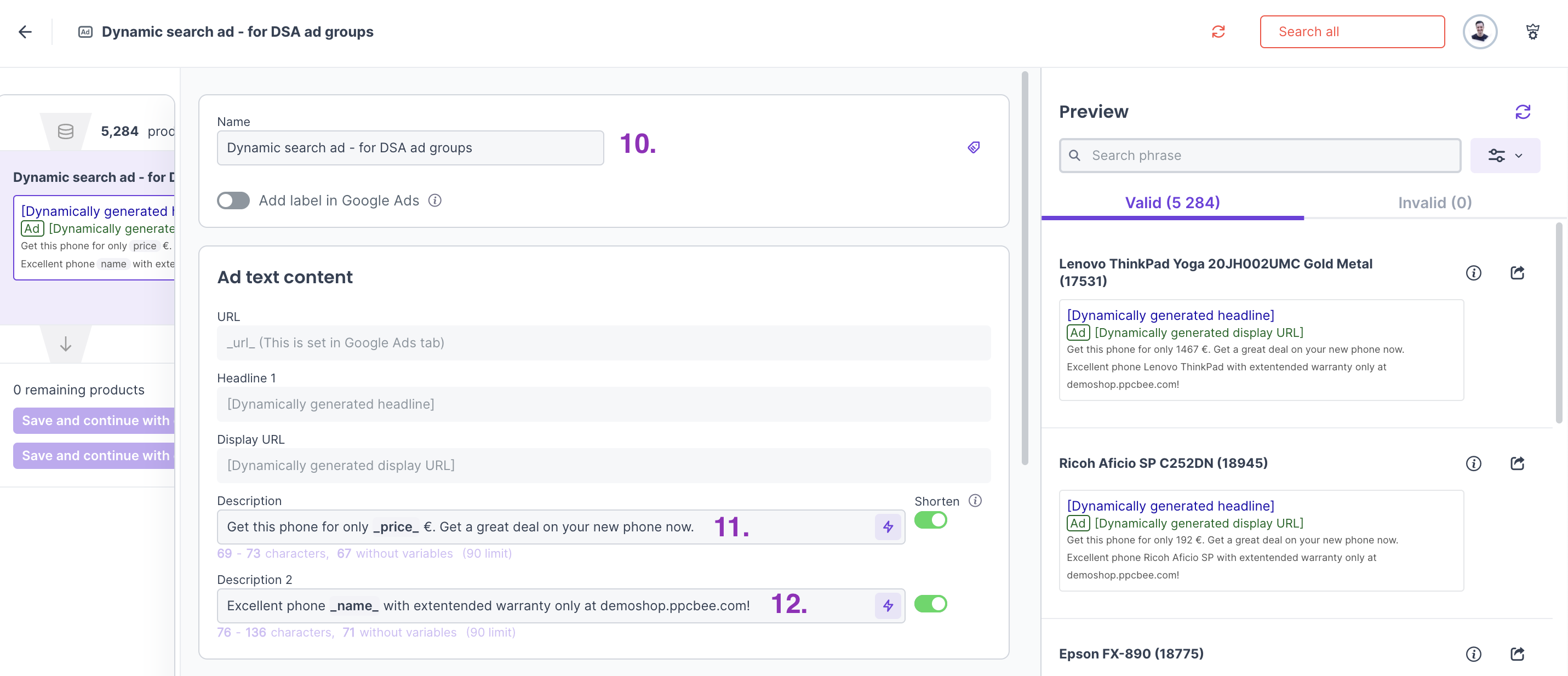 To easily find your way around the app, choose the name of an ad text version (10.). Then simply enter Description (11.), or even Description 2 (12.). The final URL was already set when you began creating the campaign (step 2.). The display URL and headline will be generated by Google itself, based on the content of the website in question.
TIP: One advantage is that DSA headlines can be much longer than those used by standard campaigns. This means that the ad takes more space and is more visible.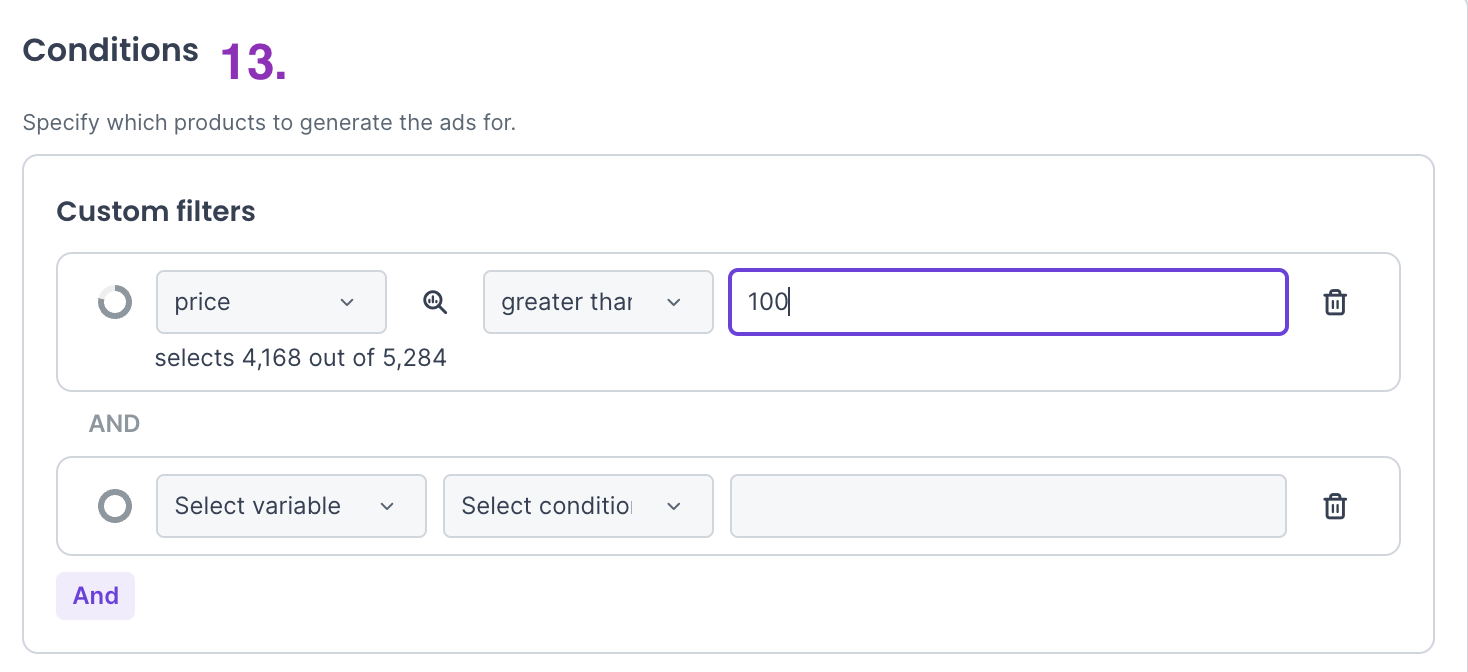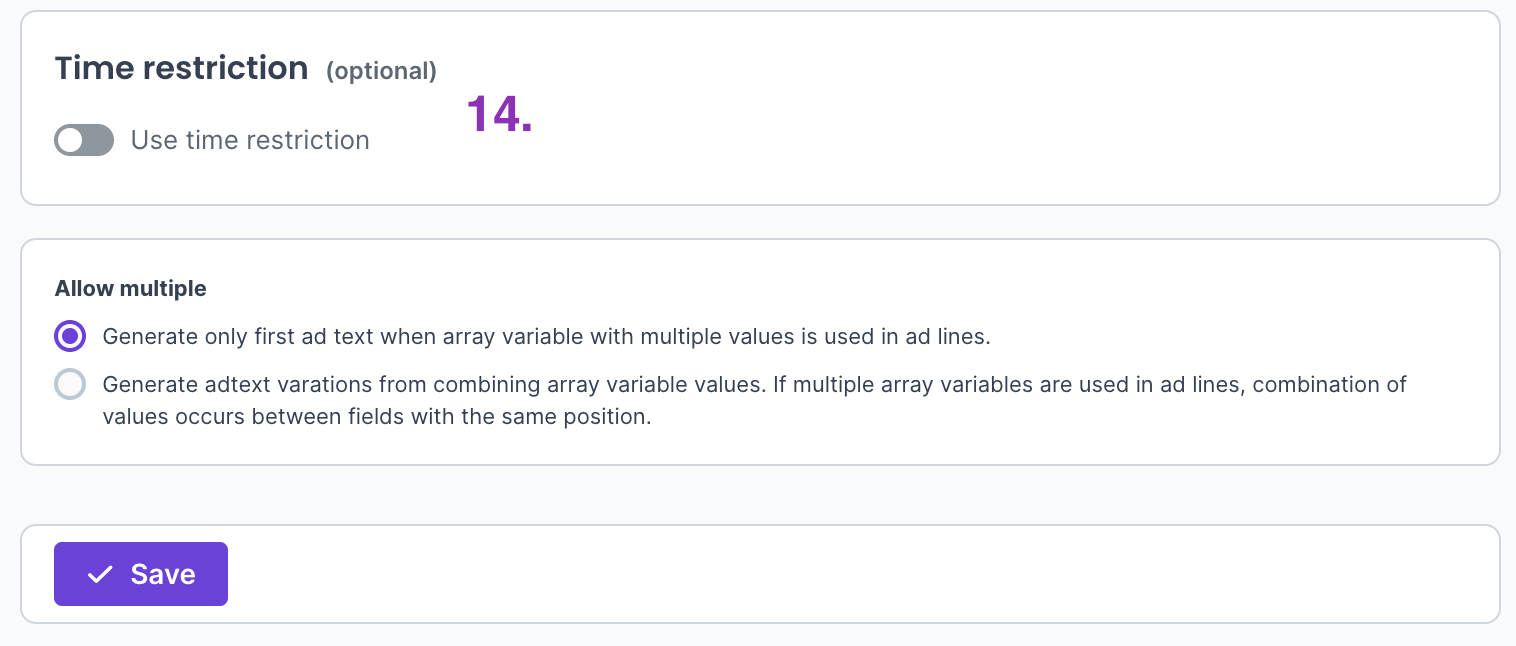 Here, you can also use conditions (13.) to determine the products where this ad text version will be shown. You can also set the period (14.) when you'd like the ad to be generated, or when you don't want the ad to be generated. As soon as the ad text is finished, we can start with bidding and strategy.
Bidding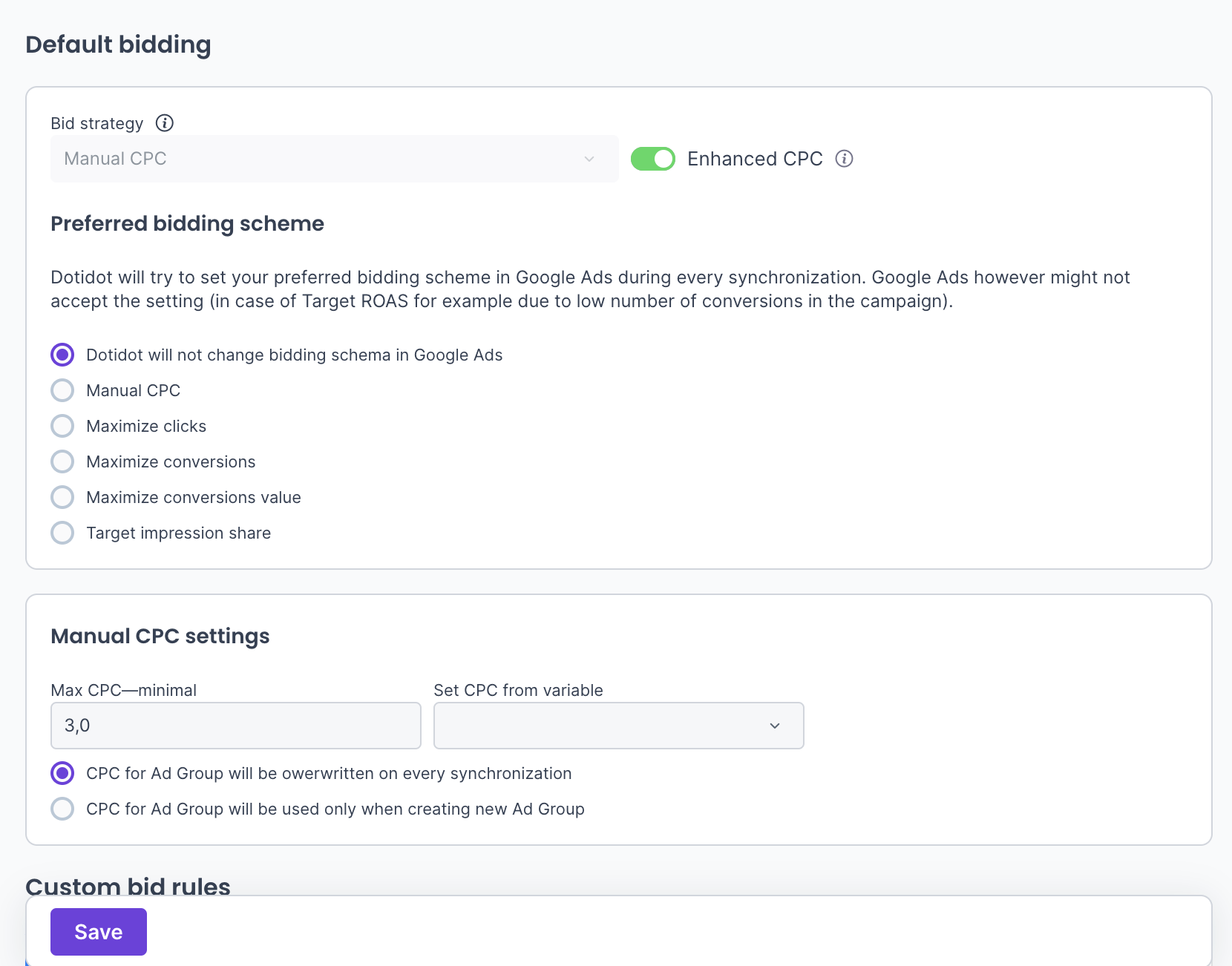 If you are satisfied with your campaign setting, we can continue with the Google Ads settings. First, we select the account (15.) we want to synchronize our campaign with. Then we set the budget of the campaign (16.).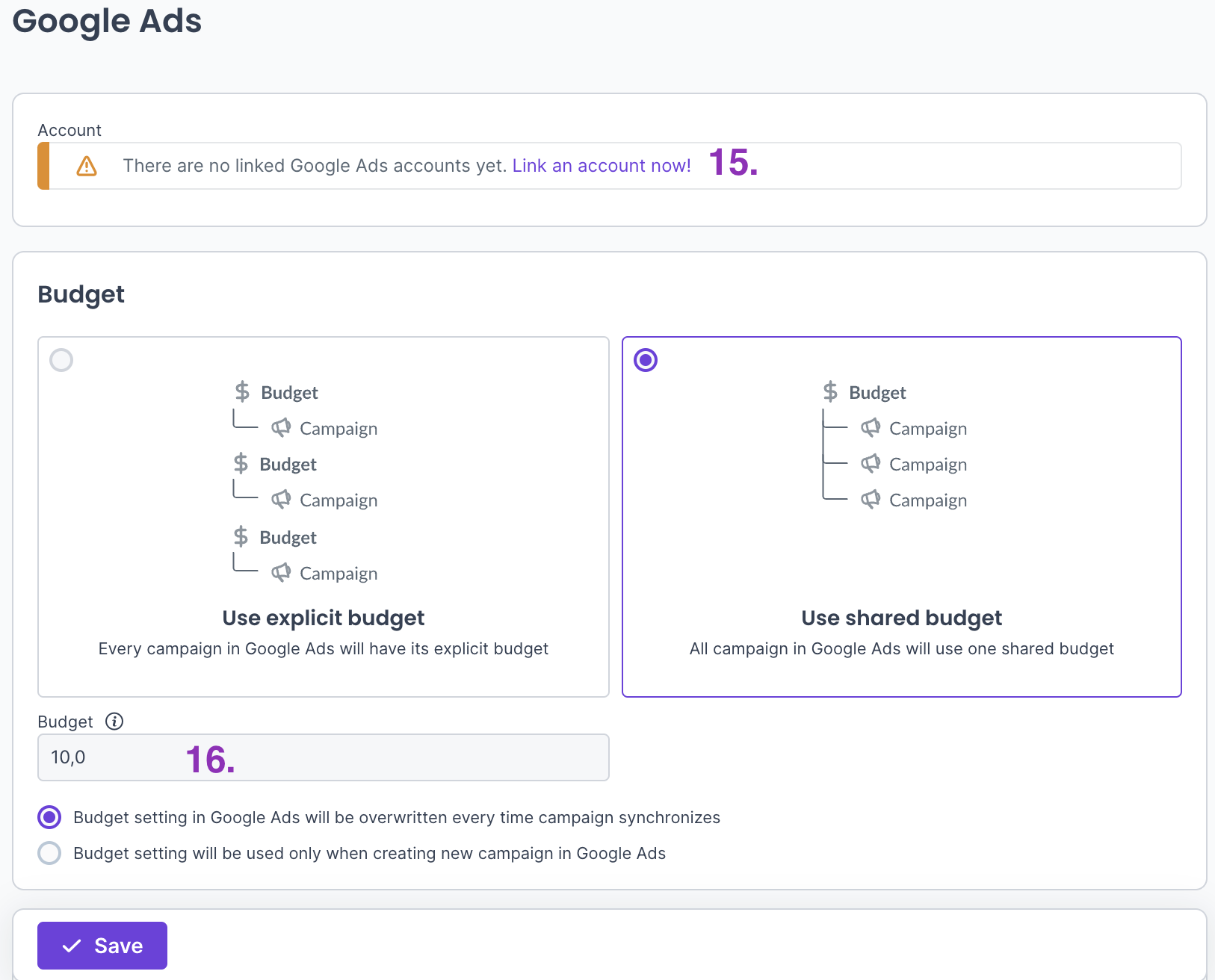 We have set the DSA settings at the beginning, but if there is something you would like to change, now it is the time.
Targeting

Here you can choose the language and location to which you'd like to target and where you want to be displayed.
If you are using numeric info from your feed that changes a lot (price, discount, date...), you can set dynamic parameters (17.), that will secure the update of your data in the case of any change.
You can also set, what settings you would like to manage directly in your Ad system and what in Dotidot (18.).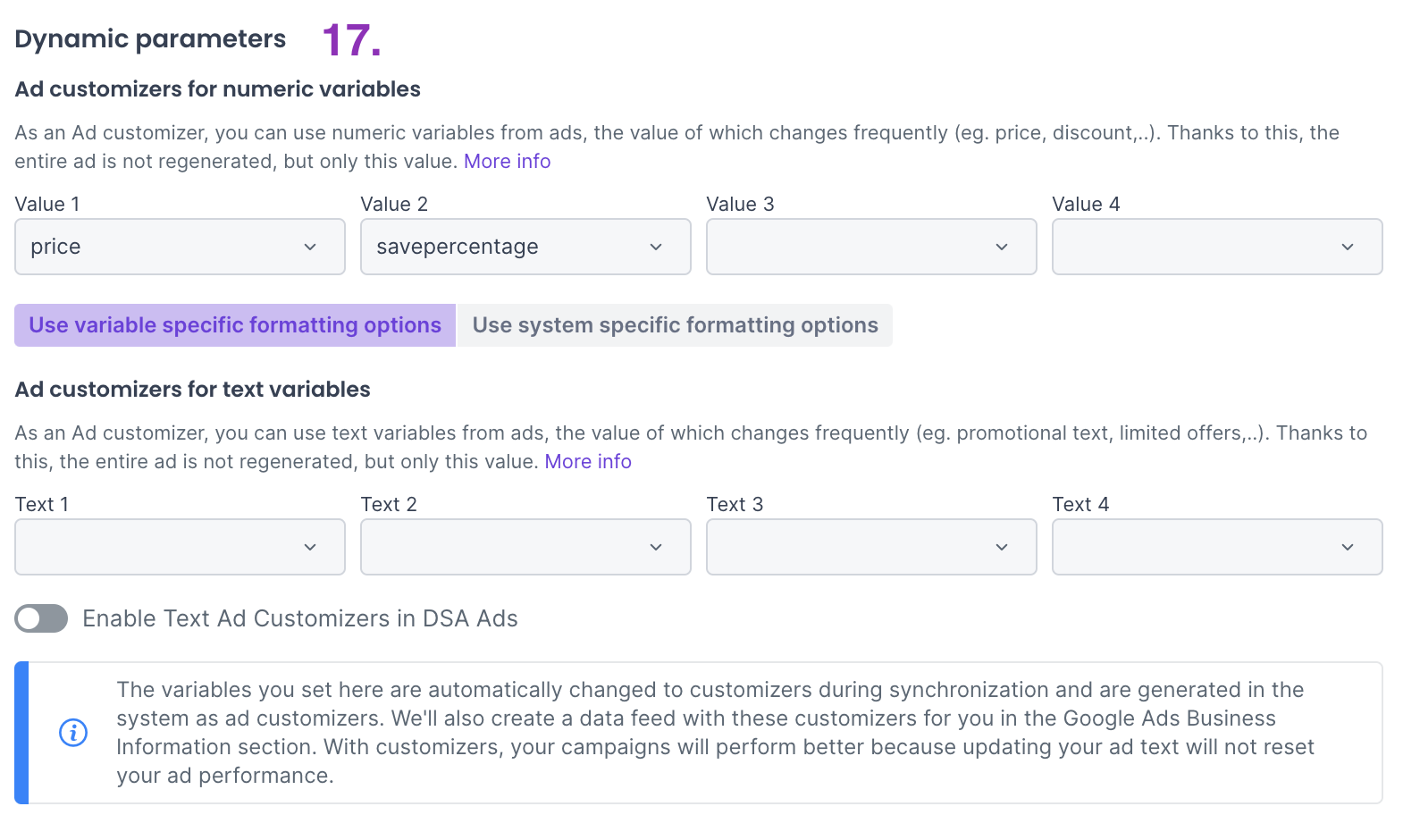 To avoid the possibility that Google is going to decline your ads, you can automatically ask for an exception (19.).
Finally, you can choose to use tracking templates (20.).
Now all you need to do is to save your settings and continue to your campaign preview.
The preview is used to check the entire structure of the campaign. You can view the detail of each ad group - you'll find the information about setting maximum CPC for a group, its destination URL and the ad text. If you need to adjust anything, use the buttons to get back to the setting.